Critical safety issues in child protection cases are being missed because caseworkers are inundated with paperwork and increasingly complex cases, a Department of Child Protection social worker has revealed.
Becky, who did not want her surname published due to the risk to her job from speaking out, voiced the concerns at a vigil at Parliament House on Wednesday to remind the government that every child in care counted.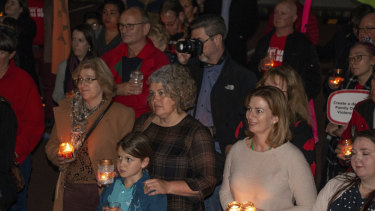 In an emotional speech, she said turnover and burnout for case workers were major challenges, with children in care subject to a revolving door of social workers and unable to develop trust in someone who would stand by them for years.
Despite public sector rules stopping workers from speaking out against the departments they are employed by, Becky addressed the gathering, which included Child Protection Minister Simone McGurk, to highlight major problems threatening the safety of children under the care of the Department of Communities.
She said staffing levels had not kept up with the substantial increase in reports of children needing help.
Workers could not ensure children received the regular visits they required to build quality relationships with their case workers.
This meant investigations were not as thorough as they had to be and were not completed as quickly as they should be. Sometimes critical things were missed, Becky admitted.
"As child protection workers, we feel that we haven't been able to do our job as well as we wanted to for a very long time," she said.
"We are inundated with paperwork and our daily work is becoming so much more complex than when we first started, and yet the time we have left to do this is becoming shorter and shorter. And this means our children are at risk."
RELATED ARTICLE
Becky hit out at Premier Mark McGowan, who she had recently heard thank public sector workers for coming back to their offices, pointing out child protection workers continued their important frontline jobs, visiting families during the COVID-19 crisis.
The alternative of leaving children without that important safety net was not an option.
"Is it too much to ask that the work we undertake to be accurately acknowledged and adequately funded?" she asked.
Community and Public Sector Union branch secretary Rikki Hendon said it was brave of a social worker to speak out for children in care.
"The laws that apply to public servants limit their ability to speak about their work or employer in a critical way," she said.
"We believe the current frameworks impinge on public sector workers' rights to contribute to important community discussions. But it is important to hear those voices."
Her appearance at the vigil came as it emerged the Department of Communities had developed a new social media policy to stop staff making "disparaging" online comments about the department.
The policy covers all online communication via social media, whether during work hours or not, and extends to banning any disparaging communication in connection with the department.
Breaches of the policy may result in disciplinary action.
"Although pervasive, systematic and ongoing surveillance of staff internet access logs will not occur, the Department of Communities may monitor or investigate staff internet access," the policy document said.
The union said the policy was implemented without proper consultations and infringed too far on the rights of case workers as citizens to participate in public discourse.
"The ambiguous language used in new policies creates fear and confusion amongst public sector workers about what they can and cannot speak about publicly," Ms Hendon said.
"We are concerned that this will deter public sector employees from whistleblowing in the public interest and will create a self-perpetuating culture of self-censorship and fear."
But Director General of the Department of Communities, Michelle Andrews said the updated social media policy was in no way designed to limit or discourage staff from engaging appropriately with social media and was similar to policies used in other departments.
It was designed to discourage incidents of bullying, harassment or vilification of Department of Communities clients or its employees through digital platforms.