Besieged Child Protection Minister Rachel Sanderson has gone on the attack in the wake of a damning report into her department's handling of the sexual abuse of two children in state care.
Ms Sanderson on Wednesday took issue with being asked in State Parliament how and when she became aware that five girls in state care were pregnant and, without identifying the girls, how old they were.
"We are discussing young, vulnerable girls who are in care, and it's an absolute disgrace the line of questioning and the gutter depths that the Opposition has gone to," she said.
"It is absolutely disgusting, this line of questioning."
Labor also asked Ms Sanderson if any of the girls were sexually abused.
"Whilst I won't be discussing individual cases, I can say that any matters that need to be referred to the police will be referred to the police and would have already," Ms Sanderson said.
She refused to confirm if the girls were living in residential state care facilities when they became pregnant.
The questions came after an independent review revealed five girls in state care were pregnant.
Former Judge Paul Rice's review into the Child Protection Department's mishandling of the sexual abuse of two girls, aged 13 and 14, in state care, was released on Tuesday.
The inquiry was launched in December after it was revealed two girls in state care fell pregnant to paedophiles and Ms Sanderson was unaware of the incidents until two men were convicted and sentenced for sexually abusing the children.
The review found Ms Sanderson failed to make it clear to her department that she wanted to be told about sexual abuse cases involving children in state care.
The investigation also found the department's current reporting procedure was a "mess" and sexual abuse against children in state care was not viewed by the agency as a "sufficiently serious crime".
It further revealed five wards of the state were pregnant at the time of the inquiry.
The Advertiser asked Ms Sanderson how old the girls were and whether anyone had been arrested or charged over the incidents.
"I cannot discuss individual cases given they involve vulnerable children and young people in care – and their privacy is paramount," she said.
"All criminal matters are reported to the child abuse report line (CARL) and to police by child protection staff."
Ms Sanderson was peppered with questions about the pregnancies in parliament on Wednesday, often sparking firey debate.
At one point, Labor's Tom Koutsantonis accused Innovation and Skills Minister David Pisoni of saying that Wright MP Blair Boyer had been "protecting paedophiles," and requested he withdraw the comment.
"Just to expedite, I withdraw," Mr Pisoni said.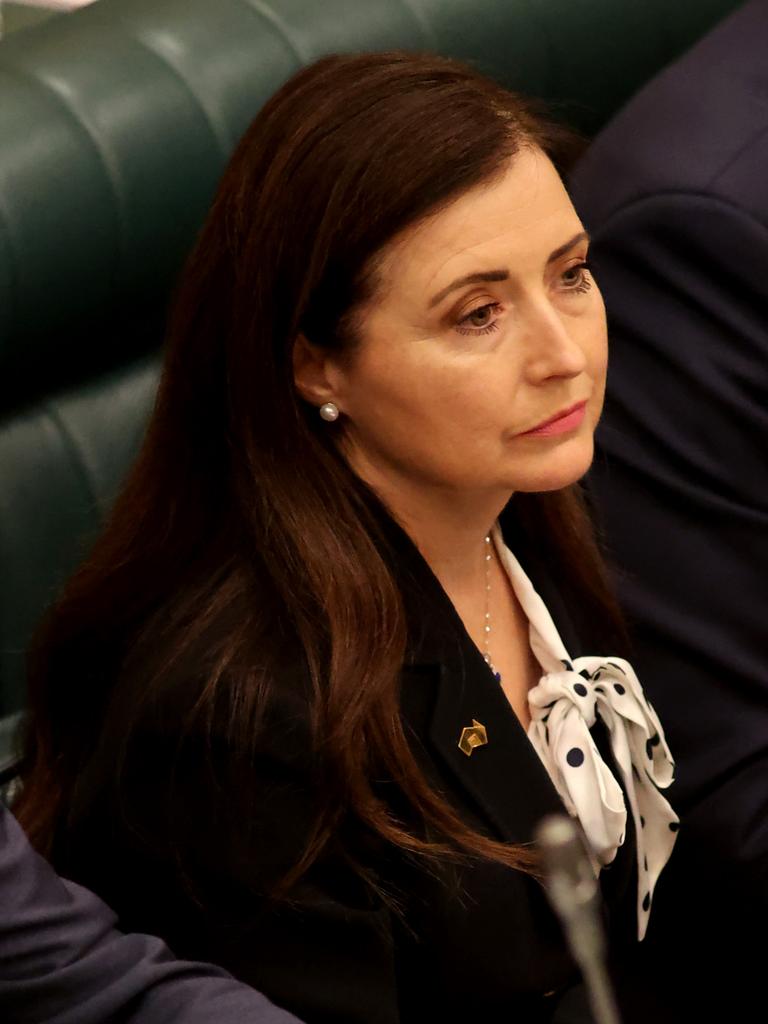 Child Protection Minister Rachel Sanderson listens during question time. Picture: NCA NewsWire / Kelly Barnes
The Rice Review stated none of the five pregnancies were the subject of an incident management procedure report..
The incident management procedure aims to ensure the safety and wellbeing of a child in the event of an incident. It sets out the steps that must be taken when an incident occurs and specifies how to report the matter and what must be included in the report.
Mr Rice said during his inquiry he asked how many pregnancies involving girls in state care had occurred over the past years and was told the department "does not have those statistics".
"In effect I was told that the incidence of teenage pregnancy was an ongoing problem across all social levels," he said.
"I was told that normally pregnancy would not be reported because " … children in care are no different to … other children".
However, social work lecturer and child protection advocate Rob Martin said he "couldn't disagree more with that statement".
Dr Martin, who is the CEO of peak body Child and Family Focus SA, said children in care were different "by virtue of their extreme vulnerability and their complete reliance on the state to keep them safe".
Dr Martin said feedback from agencies which staff state-run homes showed pregnancy among children in care, or those who had recently left the system, was "highly prevalent".
Mr Rice said his inquiry was told the rate of teenage pregnancies was on the decline and he noted the department was "doing much" to support pregnant children and those who go on to become mothers by providing accommodation and various programs.
In the wake of the revelations, the Opposition has demanded answers from Ms Sanderson.
Earlier on Wednesday, Labor's child protection spokeswoman Katrine Hildyard urged Ms Sanderson to front up and explain if any of the five pregnant girls were victims of sexual abuse and whether any investigations had taken place.
Opposition leader Peter Malinauskas renewed Labor's call for Premier Steven Marshall to sack Ms Sanderson over the findings of the inquiry.
Premier Steven Marshall, Attorney-General Vickie Chapman and Minister Rachel Sanderson speak to the media regarding the child protection report. Picture: Naomi Jellicoe
"What is becoming increasingly clear to pretty much everybody in South Australia, including the Liberal party backbench, is that Rachel Sanderson is completely out of her depth," he said.
"Those young South Australians that are within the care of Child Protection, they need a Minister who is across their brief, doing their job, exercising the function of leadership and here in the case of Rachel Sanderson what we have is a Minister … not even facing up to the most basic questions that go to the heart of this Rice Review."
Dr Martin said Ms Sanderson "absolutely should be answering questions around the detail of this report".
Mr Rice made six recommendations that aimed to improve reporting processes and toughen bail laws.
The State Government has accepted each recommendation.
It also announced it would create a permanent 'significant incident reporting unit' and will ask the Commissioner for Public Sector Employment to oversee a staff education program on incident management policies.
Attorney-General Vickie Chapman will introduce legislation into state parliament within 30 days to give effect to the recommendations.