1. The Wake-up Call; 2. The Reality Check; 3. The Line in the Sand; 4. The Panic Button; 5. The child protection mess in SA.
The Four Stages of Disappointment is the work of H. G. Nelson, a living treasure and unique graduate of Oaklands Park Primary School.
Nelson, the alter ego of Greg Pickhaver, AM, is one half of the satirical sports duo Roy and HG. His disappointment index was developed for AFL coaches to help them defend yet another inexplicable defeat, but it can be applied to so many areas of life, particularly politics.
HG's Four Stages of Disappointment are:
1. The Wake-up Call; 2. The Reality Check; 3. The Line in the Sand; 4. The Panic Button.
None of these stages come within cooee of ranking the disappointment in South Australia's latest child protection mess.
Here we go again.
For reasons best known to itself, the Department for Child Protection has kept its minister, Rachel Sanderson, in the dark about serious cases where children in state care have become pregnant, even when the cases involved paedophiles and were before the courts.
The minister might have now hit the panic button but her top bureaucrats can't seem to find her phone number.
Ten days ago, Ms Sanderson admitted her department hadn't told her of a case in which a pregnant 13-year-old girl in state care was living with a paedophile.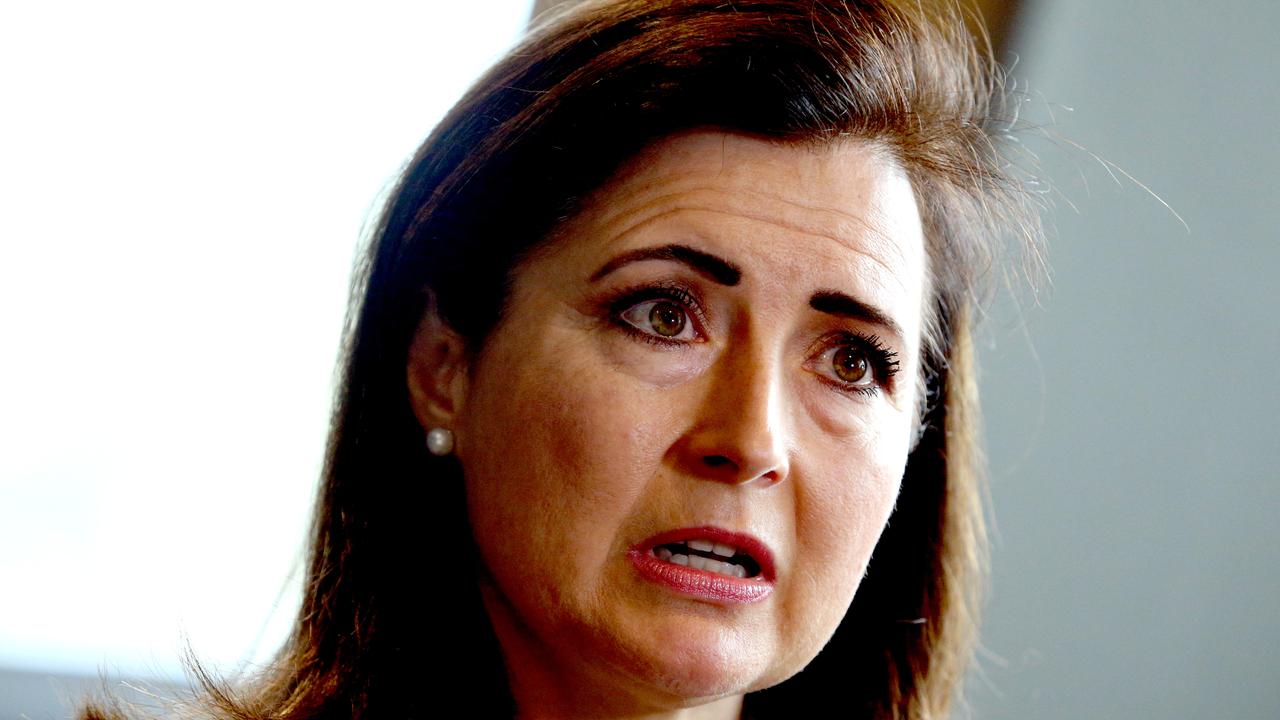 Ten days ago, Ms Sanderson admitted her department hadn't told her of a case in which a pregnant 13-year-old girl in state care was living with a paedophile. Picture: AAP Image/Kelly Barnes
It was similar to a separate case that emerged in September where a 13-year-old girl became pregnant to a paedophile who'd groomed her through a social media app. Both abusers are now in jail.
In both instances, someone in Ms Sanderson's department knew but she says she wasn't told. When she demanded to be notified, the department told her of more cases of children under its watch getting pregnant or involved in cases before the courts.
What on Earth is going on? Let's trust respected former District Court judge Paul Rice, appointed by the minister to conduct an independent inquiry to get some answers to that question.
But let's backtrack a few steps. When the first case came to light three months ago, Ms Sanderson said protocols would be put in place to keep her in the loop.
Let's help the minister out here. Only two "protocols" are needed.
First, tell senior bureaucrats that if they don't tell you about the abuse of a child in state care they'll be sacked.
Second, if they don't comply, sack them. It's not that hard, is it?
British Labour MP Chris Mullins kept a self-deprecating diary of life as a junior minister in the Blair Government.
The controversial diaries – A View from the Foothills – referred to his dread of ending up as a junior minister in the Department for Folding Deckchairs, a phrase now embedded in UK pollie-speak. "Life was a vast cascade of all the things my many superiors didn't want to do," he lamented.
Without argument, the child-protection portfolio is a vast cascade of all the things senior ministers don't want to do.
But it's not the Department for Folding Deckchairs. Instead, it's the most important portfolio in government.
No minister can be expected to personally protect every child in state care from harm.
But every minister needs to know immediately when their department discovers a serious problem.
If Minister Sanderson can't enforce that one "protocol", surely a new minister must have a go.
Labor wants heads to roll but the "we-know-best" culture of departmental child protection blossomed during the 16 years of the Rann-Weatherill Governments.
Besides, Labor itself has form in defending accident-prone, under-performing ministers.
The blistering ICAC report into the Oakden aged-care scandal found each minister and each chief executive responsible for Oakden was responsible for its failures, but were not guilty of maladministration.
"Of course, apologising for what occurred is a different thing to accepting responsibility for it," former ICAC commissioner Bruce Lander observed of one minister.
In 2012, SA's then-coroner, Mark Johns slammed Families SA for its failures to protect four-year-old Chloe Valentine, who died in January the same year. Her immensely sad, preventable death happened under Labor's watch.
In an unusual step, Mr Johns began his report with this quote: "An enlightened truth, and the bedrock of sound child protection, is that childhood is fleeting."
Adults have a duty to nurture not "damage, disturb and distress children".
"That Australians allow this social norm to be transgressed in our rich and prosperous country is what's so shocking about the harm done under the rubric of child protection."
In five days it will be Christmas, a celebration of the birth of baby Jesus, a time of joy and hope surrounding an innocent child.
A good time to draw a line in the sand over the endless disappointments in protecting all our innocent children.