A teacher at Sydney's Trinity Grammar school allegedly engaged in explicit conversations with a person who he believed was a 13-year-old girl, asking her to send him naked photos and chatting with her while at work.
Students from the private boys' school in Sydney's inner west described "a really sombre mood around the school" on Friday after English teacher Alexander David Simpson, 39, was arrested at its Summer Hill campus about 3pm on Thursday.
Earlier this month, it is alleged detectives from the child abuse and sex crimes squad's child exploitation internet unit began engaging with Mr Simpson online, posing as the girl.
Police will allege in court that, between August 17 and 26, Mr Simpson engaged in conversations about sexually explicit acts and sent sexually explicit images on his mobile phone. They will also allege he did so while at work at the school.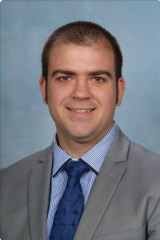 English teacher Alexander Simpson.
Court documents note that Mr Simpson allegedly used a carriage service to solicit a photograph of the girl's breasts.
Earlier on Thursday, police executed a search warrant at Mr Simpson's home at Padstow Heights, in Sydney's south-west, where they seized clothing and electronic devices. The items will undergo further examination.
Mr Simpson was taken to Burwood police station and charged with using a carriage service to send indecent material to a person under 16 and using a carriage service to solicit child abuse material.
He appeared before Burwood Local Court on Friday. Bail was not applied for and it was refused. He will be back in court on October 28.
Mr Simpson has worked at the school since 2015 and teaches English, including a year 12 class. He also coaches rugby and assists with the school cadets program.
Students said they were surprised to see police arrive at the school on Thursday afternoon while classes were still in session, and that Mr Simpson's arrest had come as a "big shock to the community".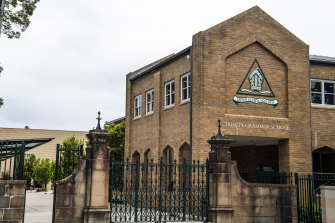 Trinity Grammar School headmaster Tim Bowden said the school was co-operating with police and pastoral support was being provided to staff and students.
"The police have informed the school that there is no suggestion that offences have been committed against students of the school," Mr Bowden said.
Parents were alerted to the arrest in an email sent on Thursday night, in which Mr Bowden said he was "relieved" no students were involved.
"We continue to review our policies and procedures stringently and regularly; we will be co-operating as required in any subsequent investigation," he wrote.
Students said the headmaster informed them of the arrest at a school assembly on Friday morning.
Mr Bowden told students that school staff and counsellors were available for support, and encouraged them to "shy away from gossip".
Commander Detective acting Superintendent Chris Goddard of the child abuse and sex crimes squad said the allegations were "very serious" and "very concerning".
He added the case served as a timely reminder to parents to discuss online safety with children.
"Talk to them about online safety, talk to them about who they're dealing with, talk to them about their search engines, what they're doing, and actually spend some time with them and make them aware of the pitfalls and the risks associated with engaging with people online that they don't know," he said.
(Source)
DISCLAIMER
===========
In publishing a story from the media on our website, The Child Protection Party is not indicating support for or rejection of the content of the story. The story is published to allow you, the public, to offer your opinions which informs the party and helps us develop policy positions.